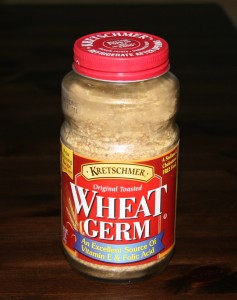 Our baby is just about 8 months old now and loves to feed herself. (I think we may need to check her into a Cheerios rehab center soon.) One problem she has is trying to pick up small pieces of slippery, wet fruit or veggie, like pears, bananas, avocado, carrots, etc.–she can't get a good enough grip on them to get them off of the high chair tray.
We've found that if we toss the food pieces in wheat germ to coat them, she can pick them up without a problem. Even better, she gets some additional nutrition from the wheat germ. I suppose you could also use something like the dried baby cereal mix or even crushed up Cheerios, though we probably should feed the addition more than we already are.
Be ready, though, for a nice mess to clean up afterwards, since wheat germ and banana slime seem to create a nice glue that, for our baby at least, ends up coating her face.