Baked Macaroni and Cheese (with Brocolli)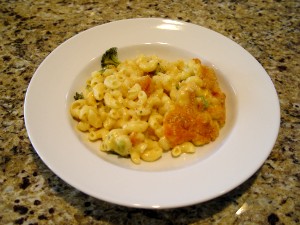 The combination of this weekend's temperature drop and the start of the football season means that if fall's not here yet, it will be soon. Around our kitchen, fall means the reappearance of dishes like stews and casseroles. One of our favorite quick casserole-like dishes is baked macaroni and cheese. We made that today, based on the recipe we found years ago on the back of a box of Mueller's elbow macaroni. We've tried a number of other recipes, but we always come back to this one.
Baked Macaroni and Cheese (with Broccoli)

Ingredients

2 cups of uncooked macaroni
2 tablespoons of corn starch
1 teaspoon of salt
1/2 teaspoon of dry mustard
1/4 teaspoon black pepper
2 1/2 cups of milk
2 tablespoons of butter
8 ounces of shredded cheddar cheese
1/4 cup of bread crumbs
1 cup of broccoli, cut into small pieces (optional)

Cook the macaroni for 7 minutes and drain.

While the macaroni is cooking, combine the corn starch, salt, mustard, and pepper in a small saucepan. Stir in the milk and add the butter. Bring to a boil over medium-high heat and boil for 1 minute. Remove from the heat.

Stir in all but a big handful of the cheese and the broccoli. Stir in the macaroni. Spray a 2 quart casserole dish with non-stick cooking spray and pour the macaroni and cheese into the dish. Sprinkle with the remaining cheese and top with the bread crumbs.

Bake in the oven for 25 minutes or until lightly browned and bubbly. Allow to cool for 5 to 10 minutes before serving.