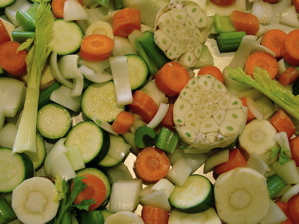 I occasionally get in the mood to chop up vegetables. The best way I've found to quell the urge is to whip up a batch of vegetable soup, the first step of which is to make some vegetable stock.
The following vegetable stock recipe is from 3 Bowls: Vegetarian Recipes from an American Zen Buddhist Monastery, a book I bought when my wife (at the time, my girlfriend) was a vegetarian and I wanted to cook for her. The recipe is versatile; I use it for vegetable soup, french onion soup, and even brining my Thanksgiving turkey.
Basic Vegetable Stock

Ingredients

2 medium onions, coarsely chopped
3 large celery ribs, cut into 1/2-inch slices
3 large carrots, cut into 1/2-inch slices
2 parsnips, peeled and cut into 1/2-inch slices
2 zucchini, trimmed and cut into 1/2-inch slices
1 head of garlic, sliced horizontally
1 tablespoon of olive oil
6 bay leaves

Preheat the oven to 450°F.

After chopping up the vegetables, place them in a large pot. Add the olive oil and toss the vegetables to coat. Spread the vegetables out on a large baking sheet and roast them for 10 minutes. Stir and roast for 5 more minutes, but don't brown them.

Put the vegetables back in the pot and add the bay leaves and 12 cups of water. Bring to a boil, reduce the heat, and simmer for 30 minutes. Let the stock stand for 10 minutes and then strain and discard the solids. Use the vegetable stock as directed in your recipe.