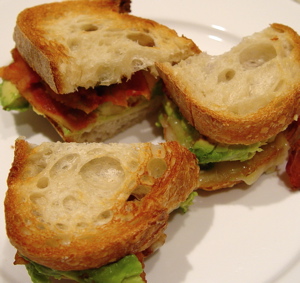 Avocados on sale at the grocery store, a few extra slices of bacon from our salmon chowder, and some leftover bread can mean only one thing: bacon avocado sandwiches.
Bacon Avocado Sandwiches

Ingredients

6 slices of bacon, cooked
1 medium avocado, sliced
A few slices of pepper jack cheese
4 slices of bread

Make a couple of sandwiches, layering the bacon, avocado, and cheese. Eat and enjoy!